It's not every day we come across women fighting over a man on the street that's why whenever Nigerians see women throwing punches, they waste no time in taking pictures, recording them and sharing them on social media.
Is it for love, or money or big di*k? We may never know for sure when it comes to these street brawls. Either way, here are 8 times Nigerian women unleash the spirit of John Cena and Brock Lesnar over a man in public.
Mud Fight
According to reports, the incident happened in Kogi. One found out the other was sleeping with her man and went to attack. Others just stood there enjoying the show…smh!
Delta girls nor dey carry last
Aunty Roman Reigns Vs  Chizoba Shawn Micheal
Enugu Girls. I heard the one purple later got married to the man they were fighting over.
Sister Big Show vs Chindinma Rey Mysterio
Why na? Men Never Finish for Nigeria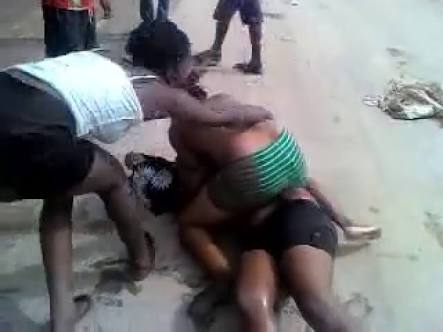 Madam Undertaker vs Aunty Kane
No more Best Friends
According to reports two close friends Bisola 29 and Aderonke 31, both from Ado-Ekiti fought over a man they were both dating without them knowing. The alleged man promised to marry Ronke only for Bisola to find out about the engagement from another friend
Na wa o! Please no matter how deep you love him, how good he is on the bed or wealthy he might be, never fight over a man in public.